Green Tea Hot Chocolate on a Stick.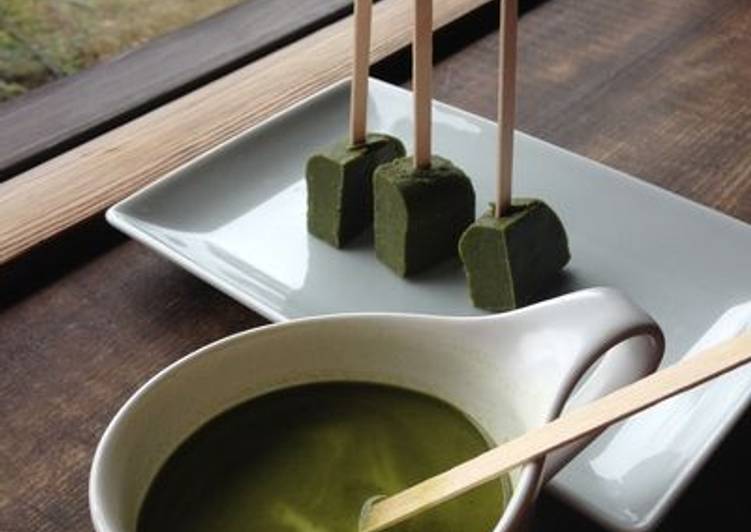 You can cook Green Tea Hot Chocolate on a Stick using 4 ingredients and 8 steps. Here is how you cook it.
Ingredients of Green Tea Hot Chocolate on a Stick
Prepare 200 g of Chopped White Chocolate.
Prepare 2 tbsp of Matcha Green Tea powder.
You need 2 tbsp of Hot water.
Prepare 2 tsp of Condensed Milk.
Green Tea Hot Chocolate on a Stick instructions
Lay out parchment paper on your 3 inch × 8 inch square mold. (or you can use silicon ice-cube tray.).
In a cup, put in the green tea powder, then add hot water and whisk until green tea powder is completely dissolved..
In a bowl, add chocolate and condensed milk, then melt them in a double boiler. (Keep your water warm like bathtub water, please do not boiling it. White Chocolate separates easily.).
Add Matcha Green tea into the chocolate. Stir it with a spatula..
Pour it in the mold or ice-cube tray. Cool in the refrigerator until set..
Cut into 12 pieces, and push sticks into each cubes..
To make Hot Chocolate: Heat a mug of a mik, and put a chocolate into the milk and mix well! Woo! Yum!!!.
You can enjoy eating it as chocolate fudge also!.
Related Search